Summer Film School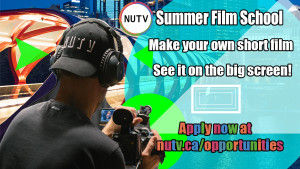 Spend this summer (May-Sept.) expressing yourself creatively with like-minded burgeoning filmmakers working together to create your very own short film! With the support of the experienced staff at NUTV and workshops taught by industry professionals, NUTV will teach you all the steps it takes to write, shoot and edit your own short film.
We are accepting 6 eager students to train with us this summer and will provide all the hands-on training and equipment needed to create your very own short film. The NUTV Summer Film School is structured to take you step-by-step through the entire filmmaking process. You will start with writing and perfecting your short film scripts, learning the essential crew positions and then using these various skills to help your fellow Summer Film School students on their films and in turn they will help you create your film. Once production is complete, we will provide you with the training to edit your own film and to finish things off we will screen the completed films at a NUTV Student Film Festival in September!
To apply, please fill out the attached application form and let us know why you feel you will make the ideal candidate for our intensive Summer Film School. Admission to this program will be quite competitive as we only have the resources to accept 6 candidates, so please be thoughtful and clear with your intentions while filling out the application form which will be downloaded once you click APPLY NOW. Full rules and guidelines are also contained in the application form. 
The final deadline for applications is April 1st. Email the completed application form and any questions you might have to ed@nutv.ca
Registration Fees:
$100 for current NUTV members who have logged over 50 hours
$300 for current NUTV members who have logged under 50 hours
$500 for non-NUTV members
Apply Now
Deadline: April 01 @ 5:00pm